Description
The Civil Engineering Water Resources & Environmental PE Exam Crash Course 04 contains 90 practice questions covering:
Traffic Engineering (Capacity Analysis and Transportation Planning)

Uninterrupted flow (e.g., level of service, capacity)
Street segment interrupted flow (e.g., level of service, running time, travel speed)
Intersection capacity (e.g., at grade, signalized, roundabout, interchange)
Traffic analysis (e.g., volume studies, peak hour factor, speed studies, modal split)
Trip generation and traffic impact studies
Accident analysis (e.g., conflict analysis, accident rates, collision diagrams)
Nonmotorized facilities (e.g., pedestrian, bicycle)
Traffic forecast
Highway safety analysis (e.g., crash modification factors, Highway Safety Manual)

Horizontal Design

Basic curve elements (e.g., middle ordinate, length, chord, radius)
Sight distance considerations
Superelevation (e.g., rate, transitions, method, components)
Special horizontal curves (e.g., compound/reverse curves, curve widening, coordination with vertical geometry)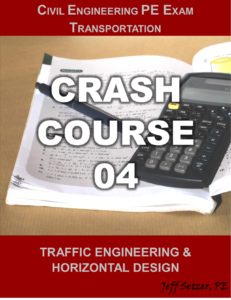 Remember, this is a process. If you will:
spend time every day gathering information
work as many example problems as possible
assemble the resources into an organized system
… you will be successful.
If there is anything I can do for you, please do not hesitate to ask.
To Your Success …
Jeff Setzer, PE




This Crash Course may* qualify for up to 3 PDH (Professional Development Hours)/0.3 CEU (Continuing Education Units.)

If you have any questions or comments while working through the Crash Course, please do not hesitate to contact me. I'd also appreciate your feedback once you've completed the guide.
[contact-form][contact-field label='Name' type='name' required='1'/][contact-field label='Email' type='email' required='1'/][contact-field label='Comment' type='textarea' required='1'/][/contact-form]
Transportation PE Exam Crash Course 04