Description
Civil Engineering
Transportation
PE Exam Crash Course 06
The Civil Engineering Transportation PE Exam Crash Course 06 contains 105 practice questions covering:
Signal Design

Signal timing (e.g., clearance intervals, phasing, pedestrian crossing timing, railroad preemption)
Signal warrants

Traffic Control Design

Signs and pavement markings
Temporary traffic control

Geotechnical and Pavement

Sampling and testing (e.g., subgrade resilient modulus, CBR, R-Values, field tests)
Soil stabilization techniques, settlement and compaction, excavation, embankment, and mass balance
Design traffic analysis and pavement design procedures (e.g., flexible and rigid pavement)
Pavement evaluation and maintenance measures (e.g., skid, roughness, rehabilitation treatments)

Drainage

Hydrology (e.g., Rational method, hydrographs, SCS/NRCS method), including runoff detention/retention/water quality mitigation measures
Hydraulics, including culvert and stormwater collection system design (e.g., inlet capacities, pipe flow, hydraulic energy dissipation), and open-channel flow

Alternatives Analysis

Economic analysis (e.g., present worth, lifecycle costs)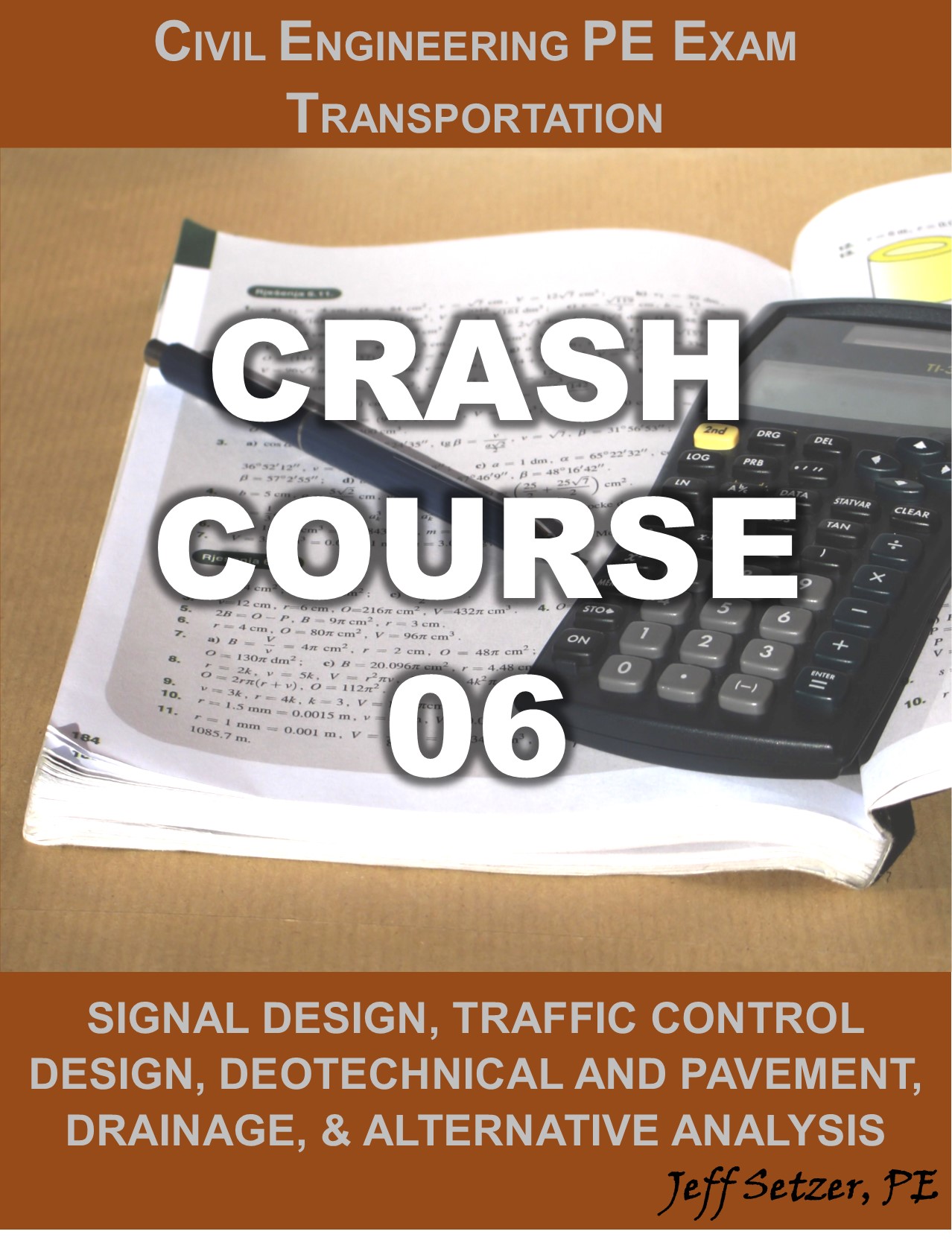 The Civil Engineering Transportation PE Exam Crash Course 06 is designed to help you prepare for the PE Exam by following these 3 steps:
Work through the information in the Crash Course … follow the references … dig deep.

following the references/links for the problems will expand your knowledge of the subject.

Work as many problems as you can find and note where you have difficulties.

working the problems in the Crash Course plus any additional examples you can find is an excellent test preparation method.

Take the time to put together a comprehensive Test-Day Resource Library©

the Test-Day Resource Library© is my #1 recommendation for everyone preparing for the PE Exam.
Remember, this is a process. If you will:
spend time every day gathering information
work as many example problems as possible
assemble the resources into an organized system
… you will be successful.
If there is anything I can do for you, please do not hesitate to ask.
To Your Success …
Jeff Setzer, PE




This Crash Course may* qualify for up to 3.5 PDH (Professional Development Hours)/0.35 CEU (Continuing Education Units.)

If you have any questions or comments while working through the Crash Course, please do not hesitate to contact me. I'd also appreciate your feedback once you've completed the guide.
[contact-form][contact-field label='Name' type='name' required='1'/][contact-field label='Email' type='email' required='1'/][contact-field label='Comment' type='textarea' required='1'/][/contact-form]
See also:
Civil Engineering Transportation PE Exam Crash Course 06